Our goal is to give you a road for for improving your gut health. One that is fairly easy to follow. We say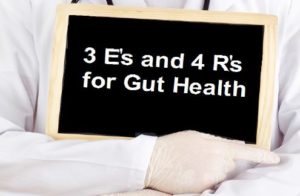 "fairly easy" because we acknowledge that any change can be a challenge.
Hopefully over the last 4 posts on gut health it's clear that your microbiome is critical to your health. A healthy and diverse microbiome usually leads to better health and wellness. It also improves your ability to manage your weight.
In our Mircobiome Research eBook we talked about addressing the 3 E's which are:
Eliminate Dysbiosis

Eliminate Leaky Gut

Eliminate Inflammation
It's these 3 conditions that you have to address. If you address them properly, then you'll experience a tremendous shift in your overall health.
4 R's For Improved Gut Health
To accomplish these objectives, we recommend the following 4 R's for improved gut health:
Remove Foods and Factors That Damage Your Gut
Replace With Healing Foods
Repair With Specific Supplements
Rebalance With Prebiotics and Probiotics
Remove Foods and Factors That Damage Your Gut Health
You are what you eat and if you make choices that damage your microbiome, you will suffer the consequences. We acknowledge that change is difficult. But understand this:
When you change your microbiome to a healthy environment, you will find it much easier to make good food choices!
Why? – Because your microbiome is driving your food choices.
If you desire sugary drinks and processed snack foods it's because the microbiome of your gut is influencing your choices and what they want to eat.
Fix the Gut – Fix the Problem!
Here are our recommendations in order of importance:
Eliminate all wheat products from your diet – this will immediately help you eliminate inflammation and dysbiosis. Choose gluten free products as much as possible.

Reduce your sugar consumption – this will help you address inflammation and dysbiosis and reduce toxins that can contribute to leaky gut.

Dramatically reduce your intake of vegetable oils – this will address inflammation and leaky gut. Most processed foods use vegetable oils. If you're cooking with them, then stop. Instead, use omega-3 oils like extra-virgin olive oil.

Limit your consumption of animal protein – this will help address dysbiosis.

Limit your alcohol consumption – this will help address dysbiosis.

Only use an antibiotic when necessary – this will help address dysbiosis.

Stop using oral contraceptives – for women this may be a challenge but tell the guy it's time for him to start using condoms so that you can enjoy vibrant health and sex.

Reduce your stress level – this will address all 3 E's as it lowers inflammation, removes the potential for dysbiosis, and helps to prevent leaky gut.

Get your needed sleep – this will address dysbiosis.
Replace With Healing Foods
As you remove foods that are harmful to your microbiome, replace them with foods that will quickly recolonize your microbome with healthy and beneficial bacteria. Here are our suggestions.
(NOTE: Pick two that you feel will work best for you initially. Make the change for 30 days. Then add two more and repeat.)
Water – increase your water consumption by adding Liquid Chlorophyll. Add 1 tablespoon of liquid chlorophyll per 16 ounces of water. This will help address inflammation.
Unsweetened Almond Milk – replace milk with almond milk. This will address dysbiosis and inflammation. For most people Almond Milk is a fairly easy change.
Vegetable Protein – this will address dysbiosis and inflammation as well as help heal a leaky gut.
Omega-3 Fats – substitute your omega-6 fats like vegetable oils with extra-virgin olive oil or coconut oil. Avocados are also an excellent source of omega-3 fats. This will address inflammation and help heal a leaky gut.

Fermented Foods – help address dsybiosis as well as reduce inflammation. Greek yogurt, Kefir, sauerkraut, and pickles are all good food choices.

Flax Seed Powder – helps address inflammation and dysbiosis. This can be added to your health shakes and food to stimulate your body's production of lignans.

Vegetables – whole and unprocessed vegetables help address both dysbiosis and inflammation. Increase your consumption by eating more spinach, broccoli, cauliflower, peas, and raw carrots. However, stay away from corn because of its sugar content.
Repair With Specific Supplements
There are so many supplements on the market that it would be easy to get lost in this area. We're going to give you just 4. But they are the 4 most important to consume to help you address the 3 E's.
L-Glutamine – This is always the first and most important one to add to your diet. It will address inflammation, leaky gut, and dysbiosis. You want to optimize the ability of the cells of your small intestine to function properly. And L-glutamine is the correct choice for this.

Magnesium – This mineral addresses inflammation, leaky gut, and dysbiosis. It will help the proper enzymatic pathways to function, which produces chemical compounds that aid in digestion.

Zinc – This mineral addresses dysbiosis by helping to fuel the enzymatic processes that help recolonize your gut microbiome with healthy, beneficial bacteria.

Borage Oil – This nutrient addresses inflammation. Inflammation is such a big issue in gut health that you want to arm your microbiome with the nutrients it needs to address this issue.
Rebalance With Prebiotics and Probiotics
We recommend combining these two together to optimize the recolonization of your gut microbiome. Prebiotics both protect and feed probiotics. Probiotics bring good bacteria that is needed to recolonize your abdominal cavity. We recommend the following:
Prebiotic: Inulin is always our first choice followed by Fructo-oligosaccarides and Psyllium Husk

Probiotic: Bacillus Coagulans is our first choice. We know that there are others in this category but if you want to rapidly recolonize your gut microbiome, then this is the one to use.
We hope our 3 E's and 4 R's are easy to understand. Now it's up to you to put it to the test. If you do, and you experienced improved gut health, then please leave us a comment.
Blessing Lives Through Nitric Oxide Therapy!
Dan Hammer