Most people understand that CoQ10 benefits heart health. Even the pharmaceutical industry understands this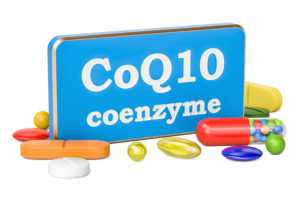 especially as it applies to the effects of statin drugs in interfering with your liver's ability to naturally produce CoQ10.
For example, the 1989 patent application by pharmaceutical giant Merck revealed the need for CoQ10 since statin drugs deplete this needed energy compound in your body. Here's a quote from part of their patent application:
"Since CoQ10 is of benefit in congestive heart failure patients, the combination with HMG-CoA reductase inhibitors (statins) should be of value in such patients who also have the added risk of high cholesterol levels."
Most statins effectively interfere with your liver's ability to create cholesterol. Unfortunately they also interfere with your liver's ability to create CoQ10, which is a needed coenzyme for proper energy production.
Why Merck, and other pharmaceutical companies, didn't create a drug that combined a statin with CoQ10 is a mystery.
And, as statins were promoted by the pharmaceutical industry for the control of cholesterol, little was done to counter the side effects caused by these statin drugs.
Fortunately physicians are finally acknowledging this need for CoQ10. It's reported that approximately 70% of cardiologists will prescribe CoQ10 for their heart disease patients.
But the purpose of this post is to help you understand that CoQ10 benefits go beyond heart health.
Why?
Because CoQ10 is a coenzyme that helps facilitate the creation of energy for all cells. And current research is revealing that CoQ10 can benefit brain, bone, and metabolic health while also reducing mortality. Read More →