Mistica is a clinically proven antioxidant beverage which features the remarkable wellness properties of the Brazilian Açaí berry in combination with a rainbow of other nutritionally dense foods! This post will discuss why antioxidants are so important to offsetting the damage from free radicals. And, why Mistica is the leading antioxidant beverage.
Let me start out by asking you a very important question:
Are You Interested In Slowing Down The Aging Process?
If you are like most of the 76+ million Baby Boomers, then the answer is YES!
Mistica Clinically Proven Antioxidant Beverage
The leading cause of aging is free radical damage to our cell membranes.
In very simple terms a free radical is an atom or molecule that is missing an electron in its outer orbit. This makes it extremely unstable. Because of this it will try to steal an electron from a different atom or molecule to stabilize itself. This process causes the affected atom or molecule to become unstable and develop into a new free radical. This begins a chain reaction that can cascade until the final free radicals steal electrons from the cell membrane of some tissue resulting in damage to a living cell.
This constant process of free radicals stealing electrons from living tissue results in the aging process we all experience.
An antioxidant is a molecule that freely gives away its outer electrons. Thus, it will give the free radical its needed electron to return it back to a stable compound. Now, you might be thinking that the antioxidant will become a free radical.
Here is the really impressive aspect of this process. An antioxidant doesn't become a free radical because they are stable in either form (with or without an even number of electrons in their outer orbit).
The stability of antioxidants allows them to act as free radical scavengers to help prevent cell and tissue damage.
Free Radical Theory of Aging

In 1954, while at the University of California at Berkeley, Dr. Denham Harman formulated what is now the most widely accepted theory on aging. Over the last 50+ years, Dr. Harman and a host of other scientist have developed a body of work that clearly points to free radical damage at the cellular level as the leading cause of aging. Additionally, their work clearly shows the benefits of antioxidants on reducing this damage.
Mistica has been clinically proven to reduce free radical damage by as much as 43%!
Think what you could do to help yourself stay young if you consistently used a product that could reduce free radical damage by as much as 43%!
One key ingredient is the Brazilian Açaí berry.
In his best-selling book The Perricone Promise, internationally known natural health expert Dr. Nicholas Perricone lists 10 super foods that can help you look younger, feel better, and promote long life. Because Dr. Perricone was so impressed with the Brazilian Acai berry, he put it at the top of his list!
Dr. Perricone calls the Brazilian Acai berry,

"one of the most nutritious and powerful foods in the world."
Why? Because no other fruit can claim its extraordinary combination of antioxidants, amino acids, anthocyanins, and essential fatty acids!
Health food expert Dr. Mehmet Oz listed several of his favorite anti-aging foods. One of these foods was the acai berry. According to Dr. Oz, "Açaí has twice the antioxidant content as a blueberry, so it's a wonderful alternative."
Additionally, articles extolling the virtues of acai have appeared in the Washington Post, Wall Street Journal, Men's Journal, Health Sciences Institute, New York Times and Time Magazine. That's a pretty impressive list!
Because of this you are going to be bombarded by a lot of products claiming to be the most nutritious, most powerful antioxidant drink in the market. So, the real question is:
Who Has the Most Powerful Antioxidant-Rich Beverage in the Marketplace?
Because there is so much hype about everyone's product and their magical ingredients, I'm going to cut through all the hype and let independent testing determine who has the "Most Powerful Antioxidant-Rich Beverage in the Market!"
The following 4 charts clearly show that Mistica Clinically Proven Antioxidant Beverage is the leader:
Does Mistica Have Any Other Health Benefits?
Yes! Synergy's Mistica combines the Brazilian Acai berry with a rainbow of other nutritionally dense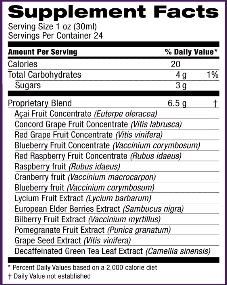 foods to create a nutrient-rich beverage that has been clinically demonstrated to help protect and rejuvenate cells. Research suggests the following benefits:
Antioxidants to help counter cell inflammation and premature aging!
Anthocyanins to support the cardiovascular system!
Essential fatty acids to aid in digestive tract function!
Phytosterols to help maintain normal cholesterol levels!
Amino Acids for enhance muscular activity and regeneration!
Protects against vascular and cellular free-radical damage!
Provides support for maintaining a healthy prostate!
Aids in maintaining a healthy immune system!
Promotes greater energy and stamina!
National Health Expert Dr. Norm Shealy
Dr. Shealy has appeared on numerous national TV programs, including Good Morning America, the Today Show, Oprah, and the Wisdom Channel. In Dr. Shealy's own words, "After years of examining every kind of functional food beverage, and hundreds of vitamin and herbal supplements, I have finally found a product that will actually make a significant improvement in oxidative damage."
Dr. Shealy agreed to conduct a trial to examine the effects of Mistica on free radical damage. According to Dr. Shealy,
"The results of the study were so impressive that I am thoroughly convinced that Mistica is a powerful and effective antioxidant. Mistica can help mitigate the effects of free radical damage in the body. This is the first, and only, example of a food supplement that I have found to have a significant impact on cellular membrane integrity."
Dr. Shealy concludes by saying, "You can harness this new knowledge by being proactive and assessing the free radical damage you are experiencing, and by using Mistica to mitigate the pervasive effects thereof. In my opinion, by doing so you will be taking a powerful step toward taking control of your personal health."
Dr. Shealy's impressive recommendation for Mistica clinically proven antioxidant beverage is founded on the fact that this product truly reduces free radical damage. In addition to the Brazilian Acai berry, the following biologically active ingredients are all part of the special, unique, and cutting-edge blend that makes up Mistica:
Pomegranate – Punica granatum has an antioxidant content which exceeds that of red wine. Pomegranates help the body regulate high cholesterol and heart health to support the cardiovascular system as well as neutralize free-radicals.
Cranberry – Vaccinium marocarpon is a rich source of several phytonutrients andproanthocyanidins (PACs) which have been found to promote urinary tract functions, support bladder health, reduces urinary infections, supports the body's defenses against gastrointestinal viruses, promotes good cholesterol levels, and contains high amounts of antioxidants, including anthocyanins.
Elderberry – Sambucus nigra contains a considerable amount of vitamins A, B, and C, as well as flavonoids, carotenoids and amino acids. Plus, it is a rich source of anthocyanins and polyphenols to help boost the immune system.
Blueberry – Vaccinium corymbosum is an antioxidant powerhouse that helps control cholesterol, can slow age-related mental loss, is high in antioxidants, promotes cardiovascular health and improves eyesight and memory.
Bilberry – Vaccinium myrtillus contains flavonoid compounds called anthocyanidins which are high in antioxidants, supports vision health, prevents the formation of free radicals, promotes healthy cholesterol levels and can be an anti-inflammatory agent.
Red Rasberry – Rubus idaeus contains proteins, fats, carbohydrates, vitamins and minerals to promote anti-aging. Red Rasberries are high in anthocyanins and also contain high levels of ellagic acid, which supports cellular health.
Lycium – Fructus lycii chinensis contains high content of betacarotene, vitamins C, A, B1, B2, B6 and E to help improve vision acuity, enhance the immune system, protect against cellular damage, reduce tension, combats fatigue, treats dizziness, improves kidney, liver and respiratory functions, and is considered to be an anti-inflammatory agent.
Concord Grapes & Red Grapes – Vitis vinifera brings a spectrum of antioxidant power with high flavonoid content, fiber, vitamin C, anthocyanins, polyphenols, and potassium to promote cardiovascular, eye health, and healthy cholesterol levels. Additionally, it support cardiovascular health, displays anti-viral properties, support proper brain function, and shows promise in reducing the growth of cancer cells.
Decaffeinated Green Tea – Camellia sinensis is a potent source of healing antioxidants, fluoride and catechins to boost the immune system, contribute to heart health, and promote cellular health.
What's the Cost of Mistica vs Eating Fruit?
You can do your own research but I actually went to the grocery store to see what it would cost me to slow down the aging process by eating the recommended 5-8 servings of fruits and vegetables. Well, the produce ranged from $0.65 to $2.25/lb. I figured it averaged about $1.30 per lb. and a 1/2 lb. represented a serving. If my high school math serves me well, I'm looking at $3.25 to $5.20 per day or $97 to $156 per month. Add to this my travel time and preparation time and it becomes quite an investment to slow down the aging process.
Now, I'm all for taking care of my health, but I wanted to find a product that would be easier to use as well as save me time and money while still providing all the benefits of a powerful antioxidant program.
Enter Mistica at a wholesale price of $65 for 2 – 24 ounce bottles. I get 48 servings.
For less than $1.35 per day I can get all of the above health benefits, slow down my aging, and improve my overall wellness! Makes sense to me!
Convinced and Want to Purchase Mistica
Just click on the "Add to Cart" button below and it will take you to the shopping cart where you can order Mistica at the Preferred Customer Price.
Each package contains 2 – 24 ounce bottles of Mistica.
Brazilian Açaí Exotic Fruit Blend from Synergy WorldWide
Retail Value: $84.50
Preferred Customer Price: $65.00
If for any reason you feel this product is not living up to your expectations – send it back and I will issue you a full refund!
As Dr. Shealy's clinical study showed, and independent testing confirms, there isn't any other antioxidant beverage in the marketplace that is as effective as Mistica in reducing free radical damage; the leading cause of aging.
I believe that if you are truly interested in slowing down the aging process, then Mistica needs to be part of your daily routine!
Blessing Lives Through Nitric Oxide Therapy!
Dan Hammer