New high blood pressure guidelines were established on Monday, November 13th 2017, which means that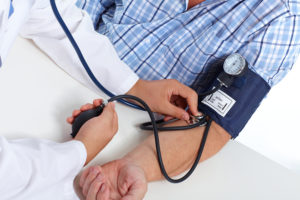 over tens of millions of Americans woke up that day to having a high blood pressure issue.
The old standard for having high blood pressure was 140 over 90.
The new high blood pressure guidelines are now 130 over 80. This means that if your systolic blood pressure (first number) is at 130 or higher and your diastolic blood pressure (second number) is at 80 or higher you now have Stage 1 hypertension.
These new parameters were jointly announced by the American Heart Association, the American College of Cardiology, and nine other health professional organizations.
So let's examine the impact these new high blood pressure guidelines have on the American adult population.
Immediate Effect of the New High Blood Pressure Guidelines
Under the old guidelines, one in three Americans were diagnosed with high blood pressure, which was about 32 percent of the adult population. That represented about 72 million Americans.
Under the new high blood pressure guidelines that number just increased to 103 million American or about 46 percent of the adult population.
That means that 31 million adults have now been classified, by the medical community, as having high blood pressure.
Why the change?
Well according to Paul Whelton, M.D., and the lead author for these new guidelines:
"We now know that a blood pressure level between 130-139/80-89 doubles your risk of cardiovascular complications such as a heart attack compared to people whose blood pressure is under 120/80."
And the reason for this is that damage to blood vessels begins as soon as blood pressure is elevated.
Here are the official new high blood pressure guidelines:
Normal – a systolic number less than 120 and a diastolic number less than 80.

Elevated – a systolic number between 120 and 129 and a diastolic number less than 80

Stage 1 – a systolic number between 130 and 139 and a diastolic number between 80 and 89

Stage 2 – a systolic number of 140 or higher and a diastolic number of 90 or higher

Hypertensive Crisis – a systolic number over 180 and a diastolic number over 120
Welcome to the "New Normal!"
What Do Others Say About the New High Blood Pressure Guidelines
According to Consumer Reports' chief medical adviser Marvin M. Lipman, M.D., "Flagging elevated blood pressure earlier will hopefully motivate people to make lifestyle changes – such as eating a heart-healthy diet and exercising – that can dramatically lower blood pressure in the long term."
According to Dr. David Samadi for the New York Daily News:
"What this means for the nation is tens of millions more Americans will now be told the next time they have their blood pressure taken that they have hypertension. It is estimated that with this change the number of men under the age of 45 who will be told they have high blood pressure will triple and the number of women under age 45 will double."
What Can Be Done to Address These New High Blood Pressure Guidelines
In examining many of the articles recently written about these new guidelines, a list of lifestyle changes were suggested to help maintain the "new normal." I've listed them below. Unfortunately, there is one very effective way to address high blood pressure that is never mention. More on this at the end of our post.
Here are the recommendations being offered to address these new high blood pressure guidelines:
Know Your Blood Pressure Numbers – This means knowing your blood pressure numbers at home and not just in the doctors office. Many people have high blood pressure at their doctor's office because they're anxious about what they doctor is going to say. However, at home their readings are lower. So if you get a blood pressure reading that now classifies you as having high blood pressure, then invest in a good home blood pressure monitor. Get one that will store your readings so that you can take your monitor to your doctor to show him/her that in normal life your blood pressure is good.

Make Lifestyle Changes – This could include many things like

a. Reducing your sodium intake

b. Putting down that alcoholic drink

c. Losing weight

d. Eating a heart-healthy diet

e. Exercising on a daily basis even if it's just walking for 15 minutes

f. Stop smoking

g. Treat sleep apnea

Learn To Handle Your Stress Levels – This is a major factor for those whose parasympathatic system is overactive.

If You Take Blood Pressure Drugs, Then Check With Your Doctor On A Regular Basis – There is no blood pressure drug that doesn't have some type of side effect. Especially for older adults. The two biggest issues are dizziness and a decline in kidney function. And for men ED or erectile dysfunction can be one of the side effects.
Now the one recommendation I've never see for addressing high blood pressure is using nitric oxide therapy to help vasodilate your vascular system for improved blood flow. For many this reduces the resistance to blood flow and can be a simple way to bring their blood pressure back to the "new normal."
We'll talk more about this in my next post.
Blessing Lives Through Nitric Oxide Therapy!
Dan Hammer