I just recently came across an excellent article on The 15 Health Benefits of the Mediterranean Diet by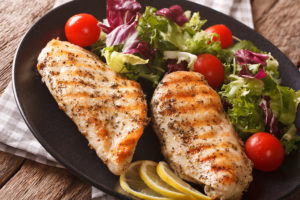 Jen Miller. I've listed these 15 health benefits below.
As I was reading her post I kept thinking that the Mediterranean Diet is an excellent way to address the 3 E's and 4 R's to Gut Health. How this way of life can:
Eliminate Dysbiosis
Eliminate Inflammation
Eliminate Leaky Gut
while helping you
Remove Foods and Factors That Damage Your Gut
Replace With Healing Foods
Repair With Specific Supplements
Rebalance With Prebiotics and Probiotics
The Mediterranean diet is based on the traditional foods that were consumed by ancient populations in Italy and Greece. Over time this diet has been modified. But its core components have remained the same.
And the resulting health benefits make the Western diet look like a death sentence.
The 15 Health Benefits of the Mediterranean Diet
Emerging research on the microbiome is clearly showing that most, if not all, of the current diseases and illnesses facing people today have a link to your gut microbial communities. That a Western diet high in processed foods, sugary drinks, animal protein, and an over abundance of carbohydrates lead to bad bacteria, which create toxins that compromise your health.
However, when you change the diet you can change the outcome. And the Mediterranean diet can change the outcome. Here are the scientifically documented health benefits as highlighted in Jen Miller's post:
Helps protect against type 2 diabetes

Maintains heart health

Keeps you agile as you age

Reduces your risk for developing Alzheimer's disease

Halves your risk of developing Parkinson's disease

Encourages healthy weight loss

Helps fight cancer

Protects cognitive health

Encourages relaxation

Can enhance our mood

Fights inflammation

Improves the health of your skin

Can relieve pain

Can improve fertility

Increases you longevity
That's quite a list of health benefits. And it's grounded in foods that are traditional to Mediterranean diets.
Food Choices That Make Up The Mediterranean Diet
In Jen Miller's article she listed the core food groups that are part of this type of diet. I've copied this list below. And I've made some additional recommendations as it applies to resetting your gut microbiome to help you achieve even better results
Produce: eat plenty of tomatoes, broccoli, spinach, kale, cauliflower, carrots, onions, Brussels sprouts, cucumbers, apples, bananas, pears, berries, oranges, and melons.
Additional Recommendations: Tomatoes contain lectins which can cause all three E's: dysbiosis, inflammation, and leaky gut. If you cook your tomatoes, then you can reduce this potential problem.
Nuts and seeds: each day, eat a handful or more of almonds, walnuts, macadamia nuts, hazelnuts, cashews, sunflower seeds, or pumpkin seeds.
Additional Recommendations: Nut butters are also a great source of nutrition and healthy fats. The best of all the nut butters is Sunflower Butter without sugar but with salt.
Legumes: this will be a major source of fibre and protein for followers of this diet. Try to eat more beans, peas, lentils, peanuts, chickpeas, and more.
Additional Recommendations: Legumes are a major source of lectins. Of the list above do not eat the beans or peanuts. The rest are fine especially if you cook them as part of their preparation for consumption.
Tubers: these starchy vegetables should be consumed in moderation, but are still an important part of this diet. Enjoy potatoes, sweet potatoes, turnips, and yams.
Additional Recommendations: Eliminate white potatoes of any kind. The rest are fine.
Whole grains: avoid refined carbohydrates, but eat small servings of things like whole oats, brown rice, rye, barley, corn, buckwheat, whole wheat, and whole grains.
Additional Recommendations: Whole wheat and corn are not the same as they were in the ancient world. I'd recommend eliminating them both. Whole wheat especially. The book Wheat Belly by Dr. William Davis is an excellent book on how modern day wheat creates health issues for most people.
Fish and other seafood: at least twice a week, eat salmon, sardines, trout, tuna, mackerel, shrimp, clams, crab, oysters, or mussels.
Additional Recommendations: none
Poultry: occasionally, enjoy chicken, duck, turkey, or other birds.
Additional Recommendations: none
Eggs and dairy: cheese, yogurt, and eggs are a great source of healthy fats and protein.
Additional Recommendations: Notice that milk is not on this list. If you're drinking milk then switch to unsweetened almond milk. Of the milk products listed they're the fermented variety, like cheese and yogurt, which is good since they help colonize good bacteria in your small intestines.
Herbs and spices: accentuate your meals with garlic, basil, mint, rosemary, sage, nutmeg, cinnamon, and pepper.
Additional Recommendations: none
Healthy fats: this is an important part of the Mediterranean diet, so make sure you're getting plenty of fats from olive oil, nuts, and avocado.
Additional Recommendations: These are omega-3 fats which are good for your gut microbiome. Stay away from omega-6 fats which are vegetable oils as they contribute to all three E's.
If you would like more information on the Mediterranean diet, then please click here. Jen Miller's article will provide you with even more information on the health benefits of this way of eating.
Blessing Lives Through Nitric Oxide Therapy!
Dan Hammer