If you haven't added turmeric to your list of needed nutrients, then hopefully today's post will help you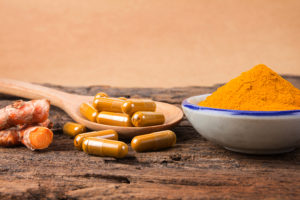 understand its health benefits. But more importantly, which compound in turmeric gives you the greatest health benefits, especially if you isolate it as a single ingredient.
If you've ever eaten curry, then you've consumed the Indian spice called turmeric. It give curry its yellow color. It's been used for thousands of years as a medicinal herb. Modern technology has now been used to isolate which compounds create the majority of health benefits in turmeric,
Curcumin Is The Secret Ingredient in Turmeric
The active compounds found in turmeric that have health benefits are called curcuminoids. The most important one, which also has the greatest health benefits, is curcumin. We'll talk about these health benefits below. But before we do its important to understand the following:
The amount of curcumin contained in turmeric is only about 3% by weight. This means that if you're going to try to get health benefits by using turmeric in your cooking you'll be wasting your time and money.

Instead you need to focus on turmeric extracts that contain mostly curcumin. And the reason why is that most good studies, which demonstrate the health benefits of this ingredient, are using 1 gram per day.

By itself curcumin is poorly absorbed into your bloodstream. This means that you need to consume this ingredient with other co-factors to enhance its absorption. There are several. One would be piperine, which is found in black pepper. Or bioperine, which can enhance the absorption of curcumin by 2000%. I'll provide you with some recommend products at the end of this blog post.
Health Benefits of Curcumin Extracted From Turmeric
While stories of the health benefits of curcumin are important to note, they just don't make it past the need for evidence-based studies. Given this the following health benefits of curcumin are based on good peer-reviewed studies.
Natural Anti-Inflammatory – Your body uses inflammation to protect you from foreign invaders like bacteria and viruses. In the medical community this is called acute or short-term inflammation.
However, when inflammation becomes chronic or long-term it becomes an issue since your body is deploying its immune system to attack your cells and tissues. Low-level, chronic inflammation is a major contributing factor for almost every disease including heart disease, cancer, metabolic syndrome, Alzheimer's, and other degenerative conditions.
To fight this chronic information modern medicine will prescribe powerful, anti-inflammatory drugs. The problem with this is that every drug has unwanted side effects.
The natural ingredient curcumin is a strong anti-inflammatory compound equal to many anti-inflammatory drugs. It targets several molecular steps in the inflammatory pathway, especially at the gene expression level.
And its potency is comparable to several anti-inflammatory pharmaceutical drugs but without the side effects.
Powerful Antioxidant Capacity – We've talked in previous posts about free radicals and the damage they do to surrounding cells and tissues. Usually leading to an inflammatory response by the body.
Antioxidants help protect us from free radical damage. Curcumin helps in two ways. First, it's a powerful antioxidant by itself. Second, it boosts your body's own antioxidant enzymes to stimulate the production of more antioxidants to protect you from free radical damage.
Boosts and Protect Brain Function – Your brain is a 3 pound wonder that when operating properly helps your body function correctly and perceive the world in amazing ways. One of the main hormones that helps your brain function properly is what's called Brain-Derived Neurotrophic Factor or BDNF. Many brain disorders, including Alzheimer's disease, have been linked to a decrease in this hormone.
Curcumin can naturally increase the brain's level of this hormone BDNF.
And, it's important to note that in a small study, curcumin was as effective as prozac in helping fight depression.
Heart and Cardiovascular Disease – This is one of my favorite health benefits because I'm a firm believer that most heart and cardiovascular health issues are due to endothelial dysfunction.
The endothelium lines all of your cardiovascular system and it regulates most of your cardiovascular health. Inflammation to this lining usually results in two key issues.
First, plaque formations, which over time leads to significant cardiovascular health issues.
Second, decreased production of Nitric Oxide, which is your body's most powerful vasodilator to maintain proper blood flow. The 1998 Nobel Prize in Medicine clearly showed how important this molecule was, and is to your cardiovascular health.
Curcumin helps in two ways. First in reducing inflammation to help prevent plaque formation. Second in enhancing endothelial function. One study showed it to be as effective as exercise in helping to maintain proper endothelial function. This would aid your body in maintaining proper levels of nitric oxide for improved blood flow.
Rheumatoid Arthritis – This is a common problem for many adults especially those who consume a typical Western diet. In several studies curcumin was shown to be more effective than an anti-inflammatory drug. This would make sense since the key health benefit of curcumin is as an anti-inflammatory compound.
Two Recommended Health Supplements for Curcumin
As discussed above you cannot eat enough turmeric to get the needed health benefits of curcumin. This means that a natural extract supplement is your best choice. The are hundreds to choose from. Here are my two recommendations based on the reputations of the companies that produce them.
Super Bio-Curcumin from LifeExtension – click here to connect to this product.
CurcuminBP from Nature's Sunshine Products – click here to connect to this product.
These two curcumin supplements are an easy and convenient way to help you experience the health benefits of curcumin found in the medicinal herb turmeric.
Blessing Lives Through Nitric Oxide Therapy!
Dan Hammer