There are 3 key stroke warning signs and to help you remember them we've created The STR Poster. These 3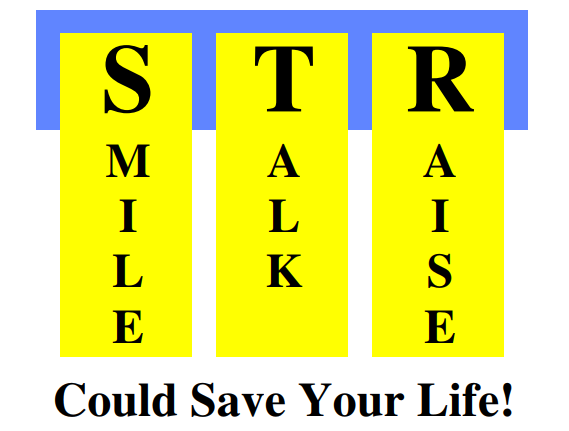 key stroke warning signs are:
Smile

Talk

Raise
I would encourage you to download The STR Poster and then share it with family and friends. Help them to remember the 3 key stroke warning signs so that they can help save a life and reduce the potential for long term disability.
Click on this link for The STR Poster. This will open a PDF.
Once the PDF is open, click on "save a copy" located at the upper left. Remember where you choose to save the file! Now you can share this PDF as an attachment in an email message. Or, to print, click the printer icon (also located at the upper left.)
<><><>
A cardiologist believes that if we can pass this information on to 10 people then at least one life will be saved. I would ask your help in doing just that. Please feel free to email this poster to at least 10 people.
Would you also consider printing it off? Share it with family, friends, and neighbors. Ask your barber, hair stylist, and local merchant to display this poster in a prominent place. Help educate your community on the stroke warning signs and how to respond.
Once the stroke symptoms occur the clock starts ticking. Your quick response could be the difference between life or death, permanent disability or significant recovery.
If you want to better understand you risk for a stroke, then please click here.
Blessing Lives Through Nitric Oxide Therapy!
Dan Hammer