Proper hydration is always a key ingredient to good health and summer hydration is even more important.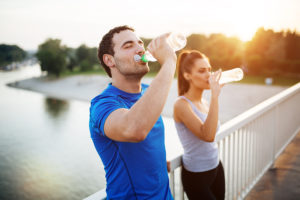 I live in the Chicago area and this summer has been the hottest in the last 3 years. For the month of August we're averaging 6 degrees above our normal temperature.
With higher temperatures you're going to perspire more. If you're not replacing this lost water, then your going to suffer some dehydration symptoms.
Especially when its estimated that 75 percent of Americans are chronically dehydrated.
Mild dehydration can trigger the following symptoms:
Headaches

Fatigue

Constipation

Dizziness

Irritability

Anxiety

Muscle Cramps

Slower Metabolism

Higher Blood Sugar

Increased Hunger
And since most people don't like drinking just plain old water, you need some quick but easy food choices to help you out.
Here Are The Big 6 Summer Hydration Food Choices
Watermelon – As the name implies this melon is load with essential water. It also contains plant compounds (lutein and zeaxanthin) that improve your body's ability to absorb and utilize water. This fruit is inexpensive and you can eat it sliced, frozen, or throw it into your smoothie. (If you add watermelon to your smoothie,then throw in the rind portion, which contains the amino acid L-citrulline. This will help produce nitric oxide for improved blood flow.)
Cucumber – This fruit is actually 96.7 percent water. It has the highest water content of any fruit or vegetable. You can eat it sliced, throw it in your green smoothie, add it to your water for additional flavor or serve it as a side dish in vinegar.
Cauliflower – This vegetable contains a surprising amount of water. It's ideal for dipping in your favorite sauce. And as we've learned on the Whole30 Program when chopped up in the food processor it makes a fantastic side dish.
Grapefruit – While oranges might be a better choice for flavor, grapefruits would be your choice for high electrolytes. They are packed with potassium, calcium, and magnesium. And since these electrolytes are easily lost in your summer time activities, eating a half grapefruit become even more important.
Strawberries – This fruit comes close to cucumbers in the amount of water they contain, which is 91 percent. This is more than any other berry. And they are one of the easiest foods to get your water since you can eat them as is. Or throw them into your smoothies. Or mashed them up and serve them on your pancakes or waffles.
Liquid Chlorophyll – This is my favorite. It's the easiest and most cost effective way to help you enjoy your water while at the same time helping to detoxify your body. It will make your water taste better and you'll find yourself drinking 2 or 3 glasses per day. Plus, there is no prep time. Just pour a tablespoon per 16 ounces of water and enjoy.
Well, that gives you 6 great ways to help you with your summer hydration.
Blessing Lives Through Nitric Oxide Therapy
Dan Hammer