Over the next couple of months I'll be doing a series of posts on The Microbiome. And the reason why is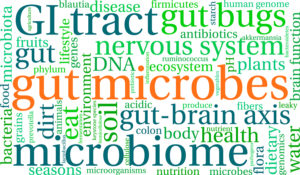 emerging science is clearly identifying how significant the microbiome is to your overall health and the prevention of disease.
Here's a quick definition of the microbiome as state by Katie Johnson:
"The human microbiome is a diverse array of microorganisms that populate the intestinal tract and can include bacteria, parasites, and yeasts."
Now you might be thinking that this really doesn't play a significant role in your health. Well consider this fact:
On a cellular level, bacteria outnumber us by a 10 to 1 ratio.
And when your intestinal bacteria are healthy and thriving, they play a critical roles in:
Making important B vitamins that are need for energy production.

Modulate our immune system response.

Prevent infections or invasions of harmful organisms especially endotoxins.
What is Dysbiosis in The Microbiome
Dysbiosis is a fancy term used to describe an imbalance in your microbiome. It's usually cause by lifestyle factors especially in the foods you eat. Sometime the use of antibiotics throws your microbiome completely out of wack.
As bad bacteria begin to dominate over the good and healthy bacteria the following can result:
Inflammatory bowel disease

Irritable bowel syndrome

Autoimmune diseases

Thyroid dysfunction

Skin disorders

Hormonal imbalances

Metabolic syndrome disorders like diabetes
The Microbiome and LPS
As harmful microorganisms begin to dominate your gut flora or microbiome they produce a substance called lipopolysaccharide or LPS. When elevated LPS can increase inflammation. It can also pass through the intestinal wall to enter the blood stream to travel to the brain. This can have a negative effect on your mood and hormone signaling.
LPS can stimulate the overgrowth of potentially harmful bacteria like E. coli, Pseudomonas, and Helicobacter.
LPS can also effect your immune system and has now been linked with obesity issues. In a 2010 study done by Diabetes Care, they found that elevated levels of LPS were associated with obesity, metabolic syndrome, and Type 2 diabetes.
Now if this wasn't bad enough, LPS stimulates the increase of pro-inflammatory chemicals, which can disrupt your metabolism, promote insulin resistance, and lead to increased weight and obesity issues.
My goal over the next couple of months is to help you understand how you can make good food and lifestyle choices that will foster the growth of good bacteria while reducing the ability of bad bacteria to dominate your microbiome. All leading to better health.
Blessing Lives Through Nitric Oxide Therapy!
Dan