Resent medical news shows that there are two promising approaches to Alzheimer's disease. One is natural and one is chemical. And both show significant developments to warrant further study.
Now before we study how these two promising approaches to Alzheimer's disease can significant impact cognitive function let's first try to understand the issue.
Below you will see two images of modern day freeways to help you better understand what's going on in a normal brain and a brain that is developing Alzheimer's disease.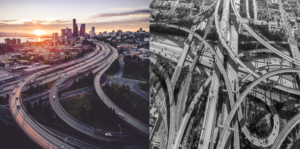 The left picture would be like a normal brain where our brain cells use a "transport system" made of fairly straight and parallel "roads" to help move food molecules, nutrients, and metabolic waste into and out of the brain to help it function properly.
And to maintain this "transport system" a healthy brain will use a protein called "tau" to keep these "roads" straight and parallel.
However, in people with Alzheimer's disease, the protein tau increases to abnormal levels forming harmful structures called tangles.
The right picture would represent these tangles were the freeway is no longer straight and parallel. Rather, it loops and splits and creates "confusion" in how food molecules, nutrients, and metabolic waste move in and out of the brain.
These tangles initially develop in the brain areas used for memory formation. As Alzheimer's disease spreads, these types of tangles also spread to the rest of the brain.
With this basic visual understanding, let's see how these two promising approaches to Alzheimer's disease work.
Two Promising Approaches to Alzheimer's Disease – Cambinol
Researchers at the University of California, Los Angeles (UCLA) have discovered how a small molecule called cambinol can stop tau tangles from spreading from cell to cell.
Their study was recently published in the journal Biochemical and Biophysical Research Communications. The following quotes from Varghese John, the senior study author and an associate professor of neurology at UCLA, captures the significance of their findings,
"Over 200 molecules have been tested as disease-modifying Alzheimer's therapy in clinical trials, and none has yet attained the holy grail."

"Our paper describes a novel approach to slow Alzheimer's progression by showing it is possible to inhibit propagation of pathologic forms of tau."
So what does this mean?
As we discussed at the beginning, the protein tau helps a healthy brain keep these "roads" or transport tracks straight by binding to microtubules of the cells. In Alzheimer's the tau detaches from the microtubules to create what are called neurofibrillary tangles.
This severely disrupts the transport of food molecules, nutrients, and metabolic waste into and out of the cell causing the brain cells to die.
What makes this even worse is that these tau tangles or clumps can migrate to the surrounding healthy cells where they attach themselves. This then disrupts the normal transport system into and out of the new cells leading to cellular death.
And then the process is repeated.
But what if there was a way to stop these tau tangles from spreading?
In their study the researchers at UCLA found that the molecule cambinol can stop this progression by blocking an enzyme called nSMase2, which is key in the spread of these tau tangles.
The ability of the molecule cambinol worked in both in vitro (cell cultures) and in vivo (mouse models). The next step will be testing in human clinical trials.
Now I tried to search to see if the molecule cambinol had a natural sourcing. Unfortunately I couldn't find any. But it did lead me to a natural ingredient called nicotinamide riboside that sharpens cognitive function and reduces the risk for Alzheimer's disease.
Two Promising Approaches to Alzheimer's Disease – Nicotinamide Riboside
Neuroscientists at Johns Hopkins University School of Medicine worked with researcher at the National Institute on Aging and recently published their findings in the Proceedings of the National Academy of Science.
Here's the short version:
Supplementation with the NAD precursor nicotinamide riboside improved cognitive function by restoring brain plasticity, which is how your brain neurons learn and store memory.
And one of the ways NAD helps is to repair DNA within the brain to prevent the toxic formation of tau tangles.
NAD is a coenzyme that is critical for multiple cellular processes such as
Decreasing brain-cell DNA damage and premature cellular death.

Increasing new brain-cell formation needed for learning and memory.

Decreasing the formation and accumulation of tau tangles.

Relieving mitochondrial stress that comes with DNA damage because of its ability to reduce this DNA damage.
The key nutritional supplement to help restore NAD levels in the brain is nicotinamide riboside.
In additional to improving cognitive function, this nutritional supplement may also promote healthy arterial aging.
In a small study of older people, nicotinamide riboside supplementation significantly improved blood pressure in people with mild hypertension.
Well, there you have it.
Two promising approaches to Alzheimer's disease. One is not yet available to the general public as it is a chemical molecule created in the lab that needs further testing and human clinical studies.
However, the nutritional supplement nicotinamide riboside is available for general use. This nutritional supplement seems to be well tolerate by most people so it may be a way to improve cognitive and cardiovascular function.
Blessing Lives Through Nitric Oxide Therapy!
Dan Hammer