Over the last seven years there has been a huge amount of research that has shown a direct link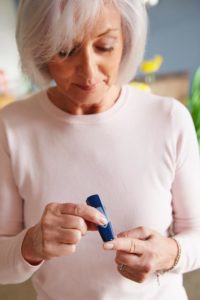 between vitamin D and diabetes. Unfortunately, most diabetics know little about this connection. The purpose of today's post is to help educate you with current information. Information that will help you use this relationship between vitamin D and diabetes to reverse the diabetic epidemic facing Americans today.
It's now estimated that 100 million American adults have diabetes or are in a pre-diabetic state. In the book, The Vitamin D Solution, Dr. Michael F. Holick discussed a Finland study. During the 1960s children received 2,000 IU of vitamin D a day during their first year of life. These children were followed for 31 years. For this population group they reduced their risk of developing Type I diabetes by 88%.
More Current Studies on Vitamin D and Diabetes
Most people understand that vitamin D is crucial to bone health. Recent research is also suggesting that vitamin D plays an extremely important role in cardiovascular health and cancer prevention. Now the literature is making a direct connection between vitamin D and diabetes. Here are two examples:
Example 1 – Esther Krug, MD, is an endocrinologist at Sinai Hospital in Baltimore and an assistant professor of medicine at Johns Hopkins University School of Medicine. At the ENDO 2010 annual meeting of The Endocrine Society, Dr. Krug presented information showing that vitamin D deficiency was found in people with poor diabetes control. Participants in the study were placed into four categories ranging from normal to mild deficiency to moderate deficiency to severe deficiency. As their vitamin D deficiency worsened, so did their diabetes control.
Based on these observations, one of Dr. Krug's suggestions was that aggressive screening of vitamin D levels is crucial for people with diabetes.
Example 2 – Joanne Kouba, Ph.D., R.D., L.D.N. and Sue Penckofer, Ph.D., R.N. of the Loyola University Chicago Marcella Niehoff School of Nursing co-authored a review article published in Diabetes Educator. This review article suggests that vitamin D plays an integral role in both insulin sensitivity and secretion. One of the studies evaluated looked at 3,000 people with Type I diabetes. This study found that those who took vitamin D supplements had a decreased risk in disease. In observational studies of people with Type II diabetes, it was noted that supplementation may be important in the prevention of diabetes.
According to Dr. Kouba, "Management of vitamin D deficiency may be a simple and cost-effective method to improve blood sugar control and prevent the serious complications associated with diabetes." Dr. Penckofer added this additional comment, "Vitamin D has widespread benefits for our health and certain chronic diseases in particular. This article further substantiates the role of this nutrient in the prevention and management of glucose intolerance and diabetes."
Just The Tip of Information on Vitamin D and Diabetes
As more studies are conducted and existing studies are reviewed it has become clear that vitamin D deficiency is widespread throughout the American population. Much of this deficiency is due to poor nutritional choices coupled with a reduced exposure to sunlight. To help you see one additional relationship between vitamin D and diabetes we need to look at type II diabetes.
The beta islet cell that makes insulin has a vitamin D receptor. Adequate amounts of vitamin D stimulate these cells to properly produce insulin. Fat cells also have vitamin D receptors. There is growing evidence that vitamin D may directly help fat cells improve their insulin sensitivity. This means that vitamin D plays an active role in both insulin production, as well as enhancing insulin sensitivity. According to Dr. Holick, one study showed that for men and women who had the highest vitamin D intake there was a 33% reduced relative risk of developing Type II diabetes.
To put this 33% reduced relative risk in numbers you're looking at preventing as many as 8 million new case of diabetes. That's a huge health benefit for the individual as well as our health care system.
Some Conclusions on Vitamin D and Diabetes
Just as adequate levels of vitamin D improve heart and bone health, adequate levels of vitamin D also reduce the risk for diabetes and diabetic complications. I would highly suggest that you pick up a copy of Dr. Holick's book The Vitamin D Solution if you or a loved one has diabetes. Your body will thank you if you apply his suggestions.
Blessing Lives Through Nitric Oxide Therapy!
Dan Hammer