Every since I was in college in the 70s there has been this debate about whether exercise can lower your risk for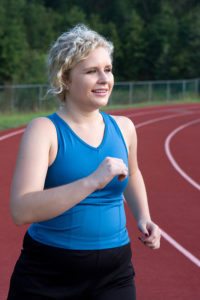 heart disease. Well the journal Circulation just published a new study that showed
Strength and cardiorespiratory fitness lowers the risk for heart disease across the board for all people!
And it didn't matter your genetic risk and/or family history of heart disease.
The study followed approximately 500,000 middle-aged people over a 10 year period.
These participants were categorized according to their genetic risk for coronary heart disease.
The results of the study showed that physical activity reduced EVERYONE'S risk for cardiovascular disease.
And for those that were in the highest risk category, but had high levels of fitness, their risk was cut by 49 percent!
The Amount of Exercise Needed to Lower Your Risk for Heart Disease
Now that we know that exercise can lower your risk for heart disease, the question becomes:
How much exercise do you need to lower your risk?
And the sweet spot seems to be 30 minutes of exercise per day. And the 30 minutes can be done continuously or in 15 minute segments or in 10 minute segments. The key is getting 30 minutes in any form of exercise that is vigorous enough to raise your heart rate.
Walking seemed to be the exercise of choice as it doesn't require any equipment (except for a good pair of walking shoes) and no gym membership.
And when you see the term "vigorous enough to raise your heart rate" you can use a mathematical equation based on your age or you can use the simple "Talk/Sing Test."
If you can't talk while you're exercising, then you're working too hard.
If you can sing while you're exercising, then you need to work harder.
This means that you need to walk at an intensity that allows you to keep a conversation going without becoming breathless.
And as your fitness levels improve you'll find that you can workout at a higher intensity and still carry on your conversation.
Benefits of Lowering Your Risk for Heart Disease Through Exercise
If lowering your risk for heart disease is not enough to motivate you to spend 30 minutes exercising each day, then maybe these additional benefits will help:
Strengthens and improves the efficiency of your heart

Can help lower blood pressure

Improved use of oxygen for better energy

Increases capillary beds and collateral blood vessel (angiogenesis which is a function of your endothelium)

Increases levels of HDL cholesterol to help protect you from the "bad" or LDL cholesterol

Weight management

Improves your mood

Improves your balance

Reduces the risk for osteoporosis

Helps you sleep better

May lower your risk for several types of cancer
As you can see exercise can lower your risk for heart disease as well as provide you with a long list of additional health benefits. Make the commitment to make exercise a part of your daily routine. Your heart and body with thank you for your commitment to their well-being.
Blessing Lives Through Nitric Oxide Therapy!
Dan Hammer