When it comes to cardiovascular health there is an important number you need to know. It's your oxidized LDL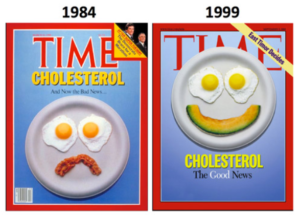 number.
Never heard of it.
Well, it's time you did.
As you can see by the image I used for this blog post, in 1984 Time magazine ran an article titled "Cholesterol And Now the Bad News." Fifteen year later in 1999 they ran another article on cholesterol but this time the title was "Cholesterol The Good News."
The year of this blog post is 2019 and maybe some day Time magazine will run a cover story title,
"Do You Know Your Oxidized LDL Number?"
Because that's the real issue when it come to cardiovascular disease!
Now before I help you understand what oxidized LDL is, and how it can be measured by your doctor, let me share some sobering statistics (brought to you by the ClevelandHeartLab:
In healthy middle-aged men, high oxLDL (oxidized LDL) levels are associated with a 4x greater risk of developing coronary heart disease.

Increased OxLDL levels are associated with the presence of coronary artery disease.

Individuals with high levels of OxLDL are 3.5x more likely to develop metabolic syndrome in the next 5 years.
If these statistics were enough to convince you to find out your oxidized LDL number, then here's some additional food for thought:
According to the American Heart Association, oxidized LDL is involved in the early stages of heart disease and plaque formation.

According to the Diabetes Journal, oxidized LDL is a much better predictor of heart disease than LDL and HDL.
So why are you still getting a blood test that only measures LDL, HDL, and Total Cholesterol?
Especially when the American Heart Association states that oxidized LDL levels can predict heart disease with a whopping 82% accuracy.
What is Oxidized LDL?
Many people get both confused and scared when the term cholesterol is used. Especially when your doctor tells you that your blood test shows that your cholesterol levels are elevated and you need to go on a statin drug to lower them.
(Important Note – At the end of this article I'm going to discuss how statin drugs may actually increase your level of oxidized LDL)
So let me make this as simple as possible to understand.
Total Cholesterol is the total level of cholesterol in your blood stream.
HDL is one component of this total cholesterol. HDL cholesterol is good. So you want a high number.
LDL is the other component of this total cholesterol. LDL cholesterol has been labeled "BAD" so your doctor wants to lower this as much as possible.
But LDL cholesterol is made up of other particles. And the one you need to know is very low density LDL. It is this component of your total cholesterol that is most vulnerable to becoming oxidized.
We've discussed in numerous articles the negative effects of free radicals and how they cause cellular damage.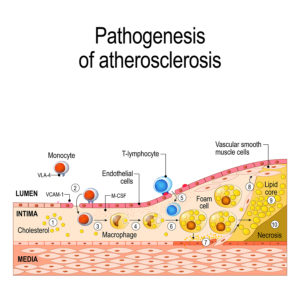 When these free radical attack very low density LDL it become oxidized. As the image shows this OxLDL leads to inflammation. Your immune system kicks in to engulf the OxLDL with macrophages. This results in foam cell formation, which then leads to atherosclerosis.
Now you're never going to be completely free of this process. But there are steps you can take to reduce your risk. Before we talk about this here are the general guidelines as it related to OxLDL:
As you can see by the chart from the Cleveland Heart Lab you want to be 60 U/L or below in your oxidized LDL number.

How to Prevent Oxidized LDL!
To effectively prevent oxidized LDL you need to focus on increasing your antioxidant intake while reducing the types of foods that create free radicals. Here are some suggestions:
Increase your consumption of fruits and vegetables

Decrease your consumption of vegetable oils and processed foods

Increase the good bacteria of your gut to reduce toxin production

And if your taking a statin drug, then you need to consume a good CoQ10 supplement.
Remember my notation above where I stated that your statin drugs may actually increase your oxidized LDL levels. Here's what's going on.
Your liver performs hundreds of metabolic processes. One is the creation of cholesterol. Another is the creation of CoQ10, which is needed by all cells for proper energy production.
Well the same pathway the liver uses to produce cholesterol is also the same pathway for the production of CoQ10. Statin drugs interfere with this pathway, which reduces both in your body.
One of the other properties of CoQ10 is that it's a powerful antioxidant. It is one of your body's built in defense mechanisms. And your liver couples the LDL it produces with CoQ10 to help protect it from free radical damage.
Unfortunately, statin drugs strip away one of your body's natural defense mechanisms.
So the next time you go to your doctor and get a blood test done to measure your cholesterol levels, make your to ask for an OxLDL test to be included. It's this number that you need to pay attention to.
If your number comes back higher than 60, then take the steps to naturally reduce this number by increasing your antioxidant intake while limiting foods that produce inflammation and free radicals.
Blessing Lives Through Nitric Oxide Therapy!
Dan Hammer