Microbiome dysbiosis usually produces toxins that result in a leaky gut and inflammation of your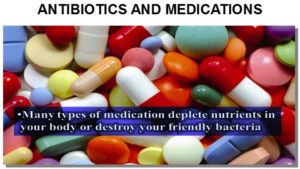 intestinal cavity. To prevent these toxins from entering into your blood stream and causing additional health issues we use the term "purify the gut microbiome."
This means returning this microbial community back to a diverse collection of beneficial bacteria that will protect the intestinal cavity, as well as aid in the proper digestion and elimination of the foods you consume.
There are two basic approaches to eliminating the toxins caused by microbiome dysbiosis:
Using pharmaceutical drugs and antibiotics

OR

Learning how to properly recolonize the gut flora through

the use of natural nutrients, prebiotics, and probiotics.
How Pharmaceutical Drugs and Antibiotics Cause Microbiome Dysbiosis
Let's first look at how antibiotics and medications cause a condition called dysbiosis.
What this term means is that your delicate microbial communities have become disrupted and imbalanced, which can lead to poor health.
As the National Institute of Health points out in their scholarly article Antibiotics and the Human Gut Microbiome: Dysbioses and Accumulation of Resistances, the human microbiome has been overly exposed to antibiotics from both the medical community and food industry.
This over exposure has both short-term and long-term health consequences, especially as it impacts your:
*Immune System resulting in Inflammation and Autoimmune Diseases
*Metabolic Pathways resulting in Metabolic Disorders and Obesity Issues
*Resistance to Harmful Pathogens resulting in Increased Potential for Illness
*Resistance to Bacterial Infections resulting in Abdominal Distress
*Developing Antibiotic Resistances which lowers the Effectiveness of Medications
*Source: https://www.ncbi.nlm.nih.gov/pmc/articles/PMC4709861/
And while statistics in health care can be manipulated to show different outcomes, it's pretty clear what has resulted in the United States. We now have the highest expenditure on health care per capita but rank only 32 on attaining overall health goals. And we've only gotten worse over time, not better.
A Natural Alternative To Preventing Microbiome Dysbiosis
The alternative is to learn how to recolonize your gut flora through the use of natural nutrients, prebiotics, and probiotics, as well as choosing foods that support good bacteria instead of supporting bad bacteria.
When properly applied, the results are amazing for most people. Here's the short list:
Supports cellular integrity and function of the intestinal lining to reduce "leaky gut" and the potential for toxins to enter the blood stream.

Aids in gut metabolism and microbiome balance for improved energy.

Activates detoxification signaling to help rid your body of toxins that cause inflammation.

Supports the elimination of heavy metals and how they can compromise your health.

Supports the digestive system to reduce abdominal distress.

Provides sustained energy and prolonged nutrient absorption to eliminate hunger and cravings.

Balances gut bacteria through healthy elimination.
This list of benefits is just the opposite of the health concerns highlighted by the National Institute of Health on the use of antibiotics.
It all centers on how your microbiome reduces and controls the production of toxins.
How Toxins are The Root Cause of Most Diseases
The makeup of your gut mircobiome plays a significant role in your overall health and wellness. As bad bacteria overwhelm good bacteria, the result is an overproduction of toxins in the abdominal cavity.
There are several factors that cause this microbiome dysbiosis. They are, but not limited to:
Your Diet – especially processed foods, high meat and dairy consumption, sugar, additives, overuse of salt, and bad fats Source: http://www.altmedrev.com/publications/9/2/180.pdf

Antibiotics and Medications – which we've already discussed

Oral Contraceptives

Alcohol

Obsession with Cleanliness

Diet Low in Fermented Foods

Stress
As your gut microbiome is overpopulated with bacteria that produce toxins, the following sequence begins to happen.
Toxins are produce that cause inflammation of the gut. Not only can this cause abdominal distress, but it leads to a condition called Leaky Gut, which we'll talk about in our next blog.

Toxins enter the blood stream either by attaching themselves to fat molecules or enter due to a leaky gut.

These toxins create inflammation throughout the body.

Inflammation can lead to Metabolic Dysfunction.

Metabolic Dysfunction leads to Insulin Resistance.

Insulin Resistance leads to Fat Deposition.

Fat Deposition leads to Cardio Metabolic Dysfunction.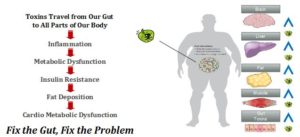 Plus the toxins that enter your blood stream can have tremendous impact on key tissue and organ systems, especially your muscle tissue, fat storage, liver function, and cognitive impairment.
So, the key to solving the toxin issue is to recolonize the mircobiome of the gut to those microbial communities that support good health.
This means: Fix the Gut, Fix the Problem!
And one big problem for most people is having a leaky gut. We'll explain this issue in our next blog post.
Blessing Lives Through Nitric Oxide Therapy!
Dan Hammer