February is Black History month and unfortunately heart disease in Black Americans is part of their history. Here's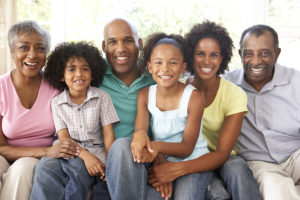 the reality in numbers:
African American women in the age range of 25-44 have a 2.5 times greater risk of coronary heart disease and African American men have a 1.5 times greater risk than the Caucasian community.
And when you look at the contributing factors it's even worse:
High Blood Pressure – 1 out of every 3 African Americans suffers from high blood pressure. The American Heart Association estimates that 28% of African American adults and more than two-thirds of African Americans over the age of 60 have high blood pressure.

Diabetes – The African American community has a two-fold higher rate for diabetes than the Caucasian community. Most diabetes-related deaths are due to cardiovascular disease.

High Cholesterol Levels – High blood cholesterol is a large risk factor for heart disease. Unfortunately 50% of African American men and 54% of women have too much cholesterol circulating in the blood stream.
And when you add in other factors like overweight and obesity, heart disease in Black Americans is historically higher than in any other ethnic community.
So the question is why?
Heart Disease in Black Americans – Several Underlining Causes in Video Format!
Within your cardiovascular system there is one particular essential amino acid, one critical signaling molecule, one critical cellular structure and one detrimental enzyme that directly impacts heart disease in Black Americans.
The following video will help you clearly understand the issues and how to properly address them:
Conclusion to Heart Disease in Black Americans

You have the power to directly improve your cardiovascular health and significantly reduce your risk for diabetes, erectile dysfunction, high blood pressure, heart disease, and stroke. It all centers on helping your endothelial cells function optimally, with an above average supply of L-arginine, so that nitric oxide is properly produced. Nitric oxide is a primary gateway to preventing heart disease in Black Americans.
Blessing Lives Through Nitric Oxide Therapy!
Dan Hammer