The nitric oxide cholesterol connection can have a significant impact on your overall cardiovascular health. Nitric Oxide is the master signaling molecule of the cardiovascular system and plays a critical role in blood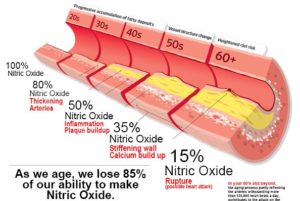 pressure and other cardiovascular functions. Cholesterol is the "glue" that holds your body together. Sometimes this "glue" and more specifically LDL or low-density lipoproteins can accumulate on the arteriole walls causing damage to the endothelial cells which leads to the cardiovascular disease called atherosclerosis. (For a clear understanding of cholesterol please see my post Cholesterol Good and Bad?)
While there are several natural and pharmaceutical treatments available to help reduce cholesterol levels, the most popular method today is the use of statin drugs. While statin drugs can positively affect cholesterol levels to reduce your risk for atherosclerosis they can also increase your risk for other wellness issues like muscle pain, muscle weakness, loss of memory and cognitive function, and a potential link to increased congestive heart failure. It's this increased risk for several very significant health concerns that have some doctors moving away from statin drugs.
Two Questions About The Nitric Oxide Cholesterol Connection
Is There a Better Way?
Can Nitric Oxide be Part of the Solution?
The answer is "YES" to both questions. Like diabetes there really are two issues regarding the nitric oxide cholesterol connection. The first is the overproduction of cholesterol by the liver and the second is the oxidative damage done by LDL cholesterol on the endothelial cells that line all of your cardiovascular system.
There are many ways to naturally improve your cholesterol numbers which means decreasing LDL or "BAD" cholesterol while increasing your HDL or "GOOD" cholesterol. On my cholesterol page I provide you with 9 methods. All of these methods usually require a lifestyle change such as exercise to improve HDL cholesterol or increasing the amount of soluble fiber in your diet to lower LDL cholesterol.
Many people don't want to make the necessary lifestyle changes so they opt for a medication like Lipitor to control their cholesterol. Convenience over risks! While Nitric Oxide doesn't seem to interfere with the liver's ability to produce cholesterol, it does help to protect the endothelial cells from the potential oxidative stress that LDL cholesterol can cause. And, Nitric Oxide (NO) helps statin drugs work more effectively.
According to Nobel Laureate in Medicine Dr. Louis Ignarro in his book NO More Heart Disease:
"With tens of millions of patients taking LDL cholesterol-lowering statin drugs, you might wonder why NO therapy is necessary for lowering cholesterol. The fact is, NO therapy is a natural way of either reducing your need for statins or eliminating the need altogether – without any additional side effects. . . The most important message for you to take away from the discussion at this stage is that if you are on statins, you should also undertake NO therapy to amplify your benefits. If you are not on statins, NO therapy may be able to keep you off them. Either way, the benefits of NO therapy in the fight against high cholesterol are too great to ignore. So do not hesitate – start NO therapy immediately."
Bottom Line to the Nitric Oxide Cholesterol Connection!
An effective and proven L-arginine / L-citrulline protocol, which is the foundation to Nitric Oxide Therapy, will help repair your endothelial cells so that they can properly produce Nitric Oxide. This can have a positive effect on improving your cholesterol numbers and may help reduce your need for statin drugs. As with any change in your treatment program you should work with your health care professional so that adjustments can be properly made
Blessing Lives Through Nitric Oxide Therapy!
Dan Hammer