A call today from one of my clients reminded me of the power of nitric oxide therapy to address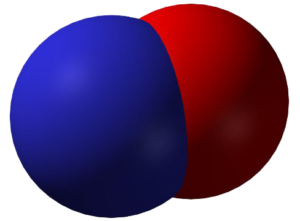 cardiovascular health concerns.
My client first contacted me in February of 2013. He had been sent home from the hospital to get his affairs in order since he was given just months to live.
My client had small vessel disease of the heart. His ejection fraction was under 30. He had several blockages and because the arteries of his heart were so small and fragile nothing could be done to help him.
My client found me though my YouTube videos on the power of nitric oxide therapy to help improve the vascular system. He wanted to know if this would help him.
As I shared with him there is no guarantee that I or nitric oxide therapy could help him given his current condition. But since he had no further options for living he decided to apply nitric oxide therapy to see if it would help.
Fast forward to today, which is almost 5 years later. My client's heart is in better shape today than when he first called me. His been give almost five additional years of life to enjoy his family and friends. And while he has had some heart related challenges over this last 5 years, he has been able to experience further medical procedures that have helped strengthen his heart.
These medical procedures would not have been possible without nitric oxide therapy.
He represents to me the power of nitric oxide therapy. And when properly applied, how it can make a significant difference in a person's cardiovascular health and function.
The Power of Nitric Oxide Therapy – What Is It
Here's the bottom line:
You Could Not Live Without Nitric Oxide!
It's that critical to your overall health. In 1992 the scientific community labeled it "The Miracle Molecule" as well as naming it the Molecule of the Year.
In 1998 the Nobel Prize in Medicine was awarded to three American researchers who discovered how your endothelium, which lines all of your cardiovascular system, converts the semi-essential amino acid l-arginine into nitric oxide – the Master Signaling Molecule of your entire cardiovascular system.
Here are the 3 main benefits of nitric oxide:
First, nitric oxide causes the smooth muscles of the vascular wall to relax resulting in what is known as vasodilation for improved blood flow. This benefits many with high blood pressure. As the vascular system opens up, to reduce the resistance to blood flow, this helps many see their blood pressure return to normal.
Second, nitric oxide keeps blood platelet cells from sticking together. The benefit is this naturally reduces the risk for strokes and heart attacks.
Third, when nitric oxide levels are high enough, over a long enough period of time, they can initiated reparative mechanisms to heal damage done to the vascular system. This includes the reversal of plaque formations resulting in additional improvements in blood flow. As well as reducing the risk for strokes and heart attacks.
The Power of Nitric Oxide Therapy – Key Ingredients
L-Arginine: L-arginine is always the first and most important ingredient. As stated earlier, the 1998 Nobel Prize in Medicine was awarded to 3 American researchers for discovering how the inside lining of your cardiovascular system, called the endothelium, converts the amino acid L-arginine, into nitric oxide, the master signaling molecule of your entire cardiovascular system.
And while L-arginine can be found in the food you eat, the easiest method to make sure you're consuming enough of this amino acid is to use a daily nutritional supplement that contains pure, free form l-arginine that's also pharmaceutical grade. Pharmaceutical grade means that it meets the highest standards set for optimal absorption of this amino acid.
For most people the use of L-arginine by itself is not enough. The conversion of L-arginine to nitric oxide only provides a two hour window of improved nitric oxide production. Then within 4 to 6 hours most people are back to their baseline levels.
This results in a temporary increase in blood flow but not long lasting benefit.
L-Citruline: If you want to optimize your production of nitric oxide, then you must combine the l-arginine with L-citrulline. This amino acid is metabolized to yield more l-arginine to enhance the ability of the enzymes of the endothelium to produce higher amounts of nitric oxide over a much longer period of time.
Here's the metabolic pathway and as you can see by the red circle, l-citrulline is key to keeping this nitric oxide production going.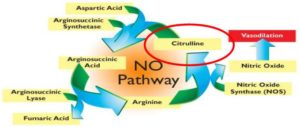 Resveratrol: The next key ingredient is Resveratrol or red wine extract. First off this is a polyphonel and has absolutely no alcohol content. It's important to have this key nutrient because it helps reduce LDL oxidation, which typically causes vascular inflammation, leading to plaque formation and damage to the inside lining of your vascular system.
Vitamin D3: Vitamin D3 and Vitamin K2 work together to regulate calcium levels in your bloodstream. Calcium is a key ingredient because the enzymatic production of nitric oxide, by your endothelium, is a calcium dependent reaction.
Additionally, vitamin D3 supports healthy cardiovascular function and inflammatory response. And for Black population groups, increasing the vitamin D levels in your bloodstream can have a profound benefit in helping to prevent diabetic complications.
Vitamin K2: You need to know that the form of vitamin K is critical. Many companies use vitamin K1, because it's significantly cheaper to use. The problem is vitamin K1 does not support vascular health and may actually interfere with blood thinning medications.
Vitamin K2 is just the opposite. This correct form significantly improves arterial and cardiovascular health. It also plays an important role in preventing calcification of the arteries as well as soft tissues like your heart, lungs, and kidneys.
Pomegranate Fruit Concentrate: Finally, we have pomegranate fruit concentrate. This ingredient enhances the enzymatic activity of the endothelium leading to higher production of nitric oxide. In peer reviewed clinical studies, pomegranate fruit concentrate has been shown to reverse plaque formations within the vascular system, because of its ability to increase nitric oxide production.
I started this blog post with a real life example of the power of nitric oxide therapy. I have many more success stories that I could share with you. Other clients who were given months to live, instead have been Blessed with 3 and 4 years or more of additional life through the proper application of nitric oxide therapy.
As well as clients who have seen their blood pressure return to normal. And diabetics who have experienced improved wound healing and a reduction in diabetic complications.
Clients who have experienced improve cognitive function.
Male clients who have experienced improvement in their ED or erectile dysfunction concerns.
And I've been able to help athletes improve their training, performance, and recovery all through the proper application of nitric oxide therapy.
This is the power of nitric oxide therapy and in my next post I'll share some of my updated YouTube videos to help you better understand this process.
Blessing Lives Through Nitric Oxide Therapy!
Dan Hammer